Indian weddings are usually very detailed and are more like a festival. During Indian weddings we can find many guests, great decorations, amazing food and great emotions.
Each photograph is a memory and every couple deserves the best documentation of their big day to cherish the memories for years to come. We believe in making every single bit of your wedding memorable. From the photography and videography to the signature story book albums, and give away we deliver our best to make your big day an affair to remember. At some point of your life the term wedding will be reinterpret as the most important factor in your life. There are plenty of ways to prepare yourself for the special event called the wedding that will set in motion the rewriting of your life's story. We want to make finding your wedding photographer just as fun and exciting as searching for your wedding venue, wedding shoes, wedding dress, wedding cake, and all that good stuff. The Studio Kelly Photography is a showcase of the best wedding photographers in the world who are constantly striving to surprise you with wedding photos that will amaze you!!
Why we are one of the best professional wedding photographers in Delhi, NCR, India :
Indian wedding photographers in delhi, NCR, india plays an important role in capturing those wonderful memories of your wedding day. They take beautiful shots of the bride, groom, friends and relative on the special day. Marriage pictures tells you how was your wedding day like, and how your friends were-happy or sad. They are reminder of your special moments and make you smile when you look back on them. It is therefore important for you to hire a professional wedding photographer in delhi, NCR, india who knows how to take best wedding photographs.
In terms of wedding photography we found ourselves best just because we value emotions, feelings and moments. Apart from this on technical basis. we usually keep in mind that For Wedding photography. Preparation is the Key! We always try to get a little creative with our shots. Weddings are about celebrating – they should be fun. The more fun we have as the photographer the more relaxed those we are photographing will be. Perhaps the best way to loosen people up is to smile as the photographer. And we always try to make our clients more comfortable so that they enjoy their moments.
He/she should be aware of latest trends and changes in wedding photography in india. A photographer should have high technical skills so that he/she can make the best use of camera and shoot best pictures. A candid wedding photographer will be in position to closely work with you, understand the importance of your marriage and deliver photos accordingly. He/she will not miss even a single crucial moment of your wedding and shoot everything such as hugs, tears, laughter, bride dressing herself, groom lifting the veil of bride, important church/gurudwara and much more.
Remember, your wedding photographer has passion and love for wedding photography. Your wedding is one of the most important days of your life and you need a good wedding photographer who can document it all and not miss the small details. A best wedding photographer uses high quality equipment, their experience and talent to capture the special atmosphere of your Big Day.
Our team knows how to work with tricky lighting and how to pose you to make you look so beautiful backlit by the sunshine.
There are some points to choose us as your best wedding photographer in Delhi, NCR, India :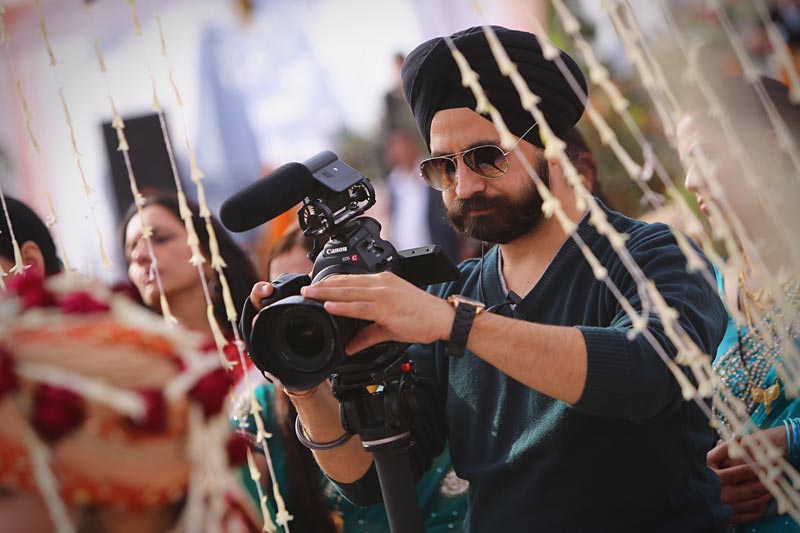 Uses advanced photography equipments to deliver best pictures.
Possess high technical skills and knows how to use different equipments efficiently
Prepare lights, flashes and props needed for capturing great photos
Able to different types of picture including natural, romantic, portraits, boudoir and photo journalistic photographs
Chooses perfect background and location for shooting amazing photos
Captures photos from different angles to provide you with the best images
We are friendly, reliable, punctual and high professional person and handles you well
Able to provide you with reprints, special shoots, albums whenever necessary
Handles the process and editing photos to offer great photographs